According to the Cambridge English Dictionary, to "fleece" is "to take someone's money dishonestly, by charging too much money or by cheating them." Unscrupulous mobile app developers have adopted this concept by creating applications that have exorbitant subscription fees or overcharge users for using features that are offered inexpensively by other publishers.
To illustrate, you can have a calculator app that charges users $10 a month, or a project management app that lets users integrate progress completion bars in their Kanban boards for $60. These bad apps are collectively called "fleeceware", and if you're not careful, your employees might just put these on your tab and make your business bleed a bit of money in the process.
Fleeceware is malware. It's just not recognized that way.
To put it in another way, anti-malware programs are blind to fleeceware apps because these apps don't have the malicious code that viruses, worms, and ransomware have. The pernicious mobile apps also don't exfiltrate data, self-replicate to overwhelm machines, or encrypt files to lock out users. Rather, they are built just like legitimate apps and look like they're just there to make money, too.
Here's how you can recognize a fleeceware app:
It charges heftier subscription fees than apps with similar features.
Its premium features are considerably more expensive than comparable features of other apps.
The app purportedly offers a trial period, but asks you to pay a fee the first time you launch it.
Its marketing materials state one amount as its subscription fee, but the app seeks a higher amount upon checkout.
It lets users wrongly assume that deleting the app also cancels their subscription, making them incur charges long after they've removed the app from their devices.
MDM is the answer to fleeceware and other mobile device challenges
Due to the proliferation of laptops, tablets, and smartphones as portable PCs, they have become a constant companion in our personal and professional lives. And whether these devices are company-issued or not, compartmentalizing their use (i.e., separating what is private from what is for the company), keeping them secure, and maintaining their cost-efficiency are very difficult challenges.
MDM grants businesses the power to meet all of these challenges. By having MDM endpoint software installed in your employees' devices, IT administrators can create separate private and corporate user profiles and manage the latter. Specifically, admins can implement mobile device policies and controls over the following:
User account management
Identity and access management
App deployment
Mobile cybersecurity
Remote device monitoring and wiping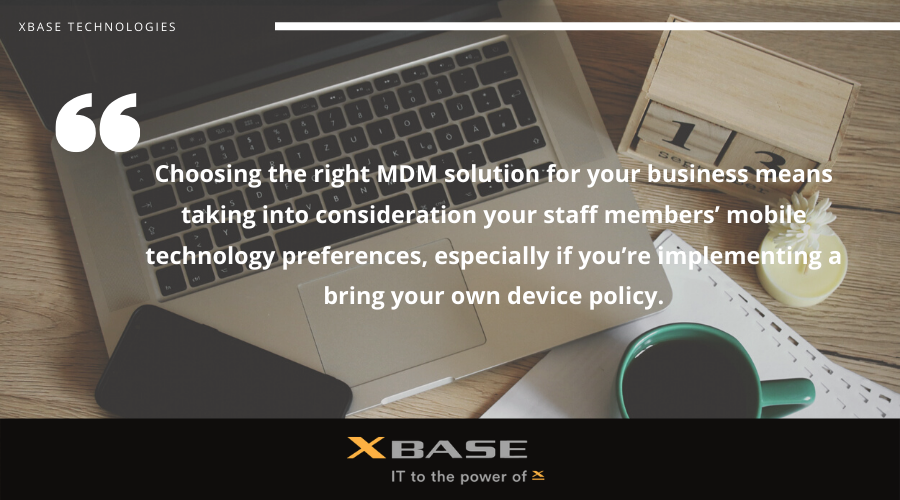 There are even MDM solutions that allow businesses to have their very own enterprise app stores. This is valuable because fleeceware developers are sophisticated enough to make their apps available on the iOS App Store and Google Play. Being on these official stores makes them seem all the more trustworthy, when they're not. By having your own app store (or even locking down the device app store), your company can avoid fleeceware by limiting the apps that their employees download and use for work.
Choosing the right MDM solution for your business means taking into consideration your staff members' mobile technology preferences, especially if you're implementing a bring your own device policy. And if your company already subscribes to Microsoft 365 (or is highly considering it), then Microsoft Endpoint Manager's tech inclusivity might just make it the solution you're looking for.
Microsoft Endpoint Manager empowers and guards your mobile-ready workforce
As the bundling of Microsoft Intune, Configuration Manager, Windows Autopilot, and other related MS applications, Endpoint Manager is Microsoft's workplace management program for Microsoft 365 users. It allows businesses to let their staff choose the devices they want to use, regardless of whether these run Android, iOS, Windows, or macOS. And whether these machines are company-issued or not, Endpoint Manager makes it easier for your IT managers to deploy these for work purposes, provision sufficient cloud resources for them, and deliver the apps your employees want and need.
This means that you can grant your staff the freedom to choose their apps, provided these have been vetted by your IT team first. You thereby decrease the risk of authorizing fleeceware for business purposes.
Protection from fleeceware is but one of Endpoint Manager's benefits
Obviously, Microsoft Endpoint Manager does way more than just enable you to avoid fleeceware. Furthermore, it's not the only solution that's out there. Is it or other Mobile Device Management solutions right for you? Turn to XBASE to help you navigate the options and choose the best fit.
Businesses across Toronto and beyond rely on XBASE for Exponentially Better™ IT services. Download our eBooks to learn more about how our managed IT services can help your business grow while protecting you from cyberthreats.
Do you need help with your IT needs?
Don't just settle for average IT support. You want a responsive team that you can trust. Find out more by scheduling a call with us or getting a free quote down below.
Like This Article?
Sign up below and once a month we'll send you a roundup
of our most popular posts