Backups are temporary copies or "snapshots" of your data that are taken so that you have something to fall back on in case your primary copy is tainted or destroyed. As time goes on, you produce fresh data, making the snapshots more and more outdated. This is why data must be backed up regularly, at a pace defined by the rate at which new data is produced.
In the context of cloud security, backups are often confused with archived or retained data, but they have different purposes. While backups are created as short-term fail-safes against data loss, archives are built for long-term record-keeping. Unlike backup snapshots that get superseded by new ones, archives are historical records that let users access dated data, similar to how libraries can let visitors read decades-old newspapers from their microfiche collection.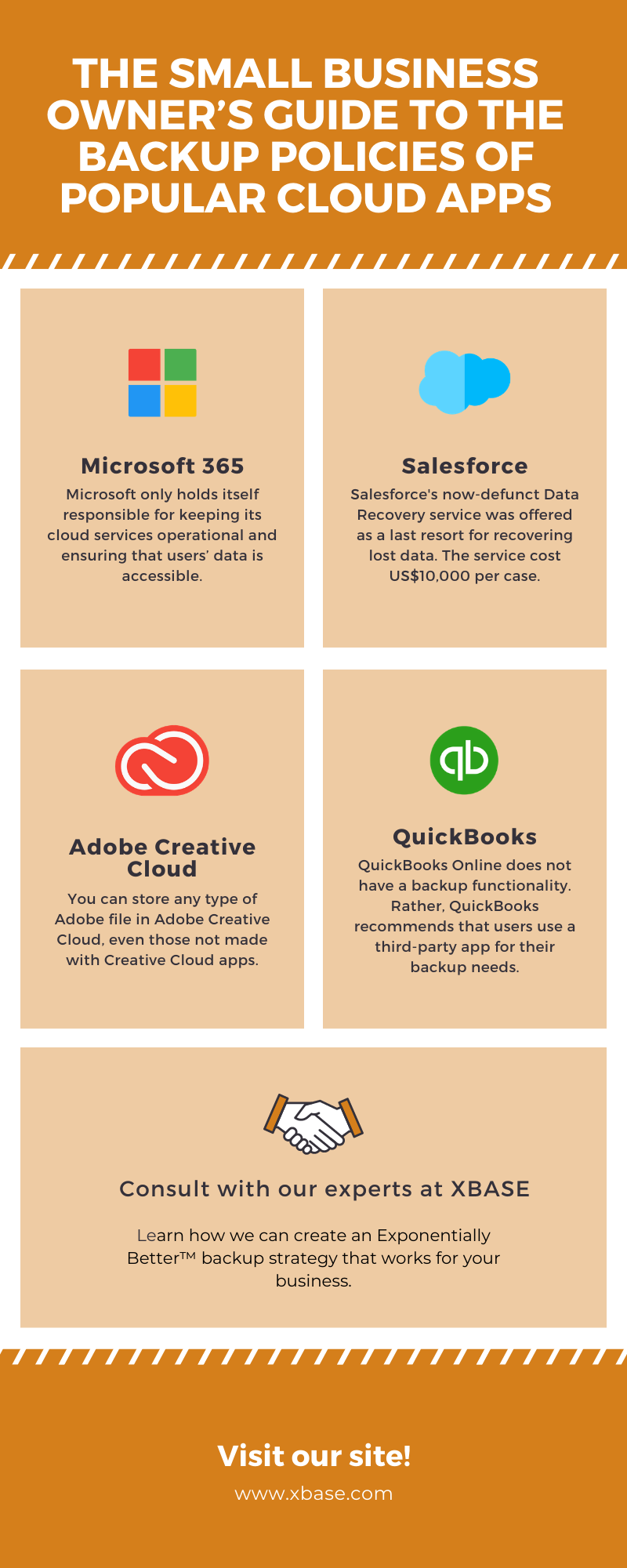 Retained data, in particular, is archived data that cannot be permanently deleted (i.e., the data is always recoverable) until after its set retention period expires. Understanding the distinction between backups and archived/retained data is important when looking into the backup policies of popular as-a-Service cloud apps and platforms that small- and medium-sized businesses (SMBs) use.
Microsoft 365
As a service provider, Microsoft does not have backup policies. When it comes to data security issues in cloud computing, Microsoft only holds itself responsible for keeping its cloud services operational and ensuring that users' data is accessible. It leaves backups in the hands of the users, though Microsoft has default retention policies that users can customize to:
Salesforce
Salesforce's now-defunct Data Recovery service (retired on July 31, 2020) was offered as a last resort for recovering lost data. The service cost US$10,000 per case.
Adobe Creative Cloud
You can store any type of Adobe file in Adobe Creative Cloud, even those not made with Creative Cloud apps. Having copies in the cloud effectively back up their noncloud counterparts. However, Adobe Creative Cloud does not back up the files stored in it. This means that you'll be hard-pressed to get your files if:
The cloud service is down.
You accidentally delete your only copy of a file you stored there.
Adobe somehow loses your only copies of files.
QuickBooks
Similar to how Adobe enables you to back up your desktop files on the cloud, desktop versions of QuickBooks allow users to create backups of their files locally (i.e., on the same machine) or on the cloud. They can do so manually or set a regular schedule for it.
QuickBooks Online, however, does not have a backup functionality. Rather, QuickBooks recommends that users use a third-party app for their backup needs.
A backup service must be separate from but can integrate with your as-a-Service apps
As we can clearly see in the four examples above, as-a-Service business apps can't also be their own backup providers. Companies need third-party partners that allow them to put (copies of) eggs in separate baskets.
Also read: Managed Cloud Services: 12 Ways They Can Save You Money
More than being an important component of cloud computing security, separate backup services allow you to quickly sever ties with one vendor and switch to another. This is because you will no longer need your old vendor to transfer your files to the new one, but instead just use the files in your backup.
While app vendors promise service continuity and data accessibility, they naturally leave the responsibility of backing up data to their users. To have a better understanding of data backups, download our FREE eBook on the basics. Once you're through, consult with our experts at XBASE to learn how we can create an Exponentially Better™ backup strategy that works for your business.
Like This Article?
Sign up below and once a month we'll send you a roundup
of our most popular posts
---