Every startup founder in Toronto knows that budgets are tight during the first few years of business. They usually have no savings, often operate at a net loss, and are saddled with debts and other financial obligations. So while Software-as-a-Service (SaaS) subscriptions allow small- and medium-sized businesses (SMBs) to spread software costs, as opposed to having to plunk down large amounts of money upfront for lifetime licenses, the decision to subscribe cannot be taken lightly.
Microsoft knows that budding companies don't need — and can't afford — the full gamut of its business software offerings. This is why it has three Microsoft 365 subscription plans, namely Microsoft 365 Business Basic, Standard, and Premium, that are packaged especially for SMBs with 300 employees or less.
Given how flexible Microsoft is in allowing firms to switch plans, you don't need to make allowances for increased user demand or anticipate what your staff might need in the future. You can just choose the plan that best addresses your business needs now, then change plans when your needs change. With that in mind, use our product guide below to help you decide.
What do all the three Microsoft 365 plans for SMBs include?
Web versions of MS Office apps, namely Excel, PowerPoint, OneNote, Outlook, and Word
These versions can be opened via a web browser or a mobile app but don't have all of the features and functionalities of their desktop counterparts. A user can use each web version on up to five tablets and five phones.

Full version of Microsoft Teams
While a free version of Teams is available for Microsoft program users who are not 365 subscribers, the full version of Teams is included in all 365 plans (see comparison table here). Teams enables users to communicate with one another via chat or video conference and collaborate on Microsoft-based files without leaving the Teams app.

File sharing and storage
Each user receives 1 TB of cloud storage, can work on and save their files in the cloud, and can share their files exclusively with those who have the right permissions.

Custom domain, email, and calendar
Your company gets to have its own domain name, and all your staff members get email and calendar accounts.

Security and compliance tools
Included here are email security software, privacy and security controls for meeting industry, regional, and international standards, and a tool for creating and implementing password policies.

99.9% uptime and online technical support
Never worry about Microsoft 365 suffering downtime. As for technical support, MS has an ever-growing library of online documents and fora for active and resolved technical concerns. How-tos abound so that users can troubleshoot and fix technical issues on their own, but if you need immediate 24/7/365 technicians to do the fixing for you, XBASE can provide them for you.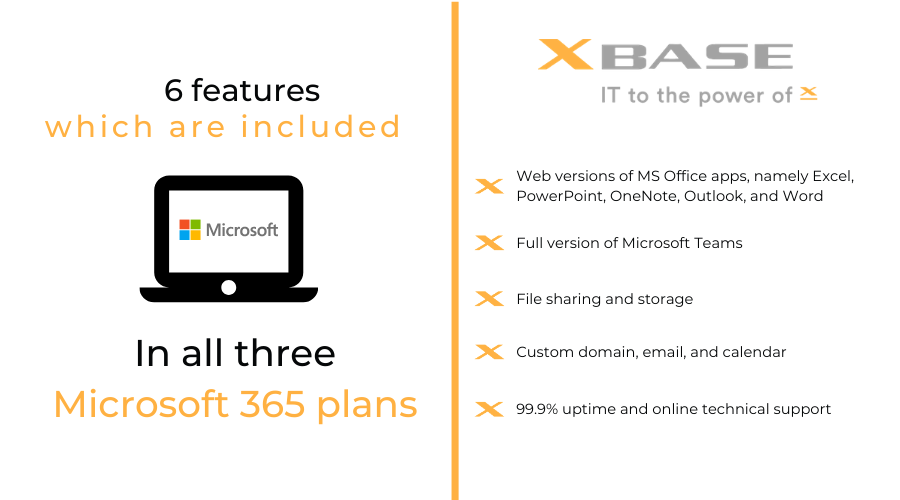 Now that we've covered where all the plans are similar, let's take a look at what makes each of them unique.
Microsoft 365 Business Basic
(Formerly Office 365 Business Essentials; $6.40 per user, per month)
This Microsoft 365 platform is purely web- and mobile-based. This means that it does not offer the desktop versions of MS Office 365 apps, which may prove frustrating for those who want to do all of the things they were able to do on the desktop apps.
With Teams as its only non-Office inclusion, Basic is the smallest among the three 365 packages. It is the most affordable, making it perfect for very small businesses that let staff members use their own devices instead of provide them with machines. These businesses often don't need a lot of other non-Office apps and find the primary functions of Office apps to be enough for them.
Microsoft 365 Business Standard
(Formerly Office 365 Business Premium; $16.00 per user, per month)
Unlike Basic, Standard has all the desktop versions of Office apps. Each user can install these desktop apps on up to five Macs or PCs. Beyond Office apps and Teams, Standard offers other helpful business tools, such as Microsoft Bookings and MileIQ. Microsoft Bookings enables your customers to set and manage their appointments with you, whereas MileIQ gives you the ability to track the miles your staff members travel for work purposes.
Standard is perfect for businesses that provide their employees with desktops and/or laptops.
Microsoft 365 Business Premium
(Formerly Microsoft 365 Business; $25.60 per user, per month)
This has everything Standard has, plus cutting-edge security apps (such as Office 365 Advanced Threat Protection and Windows Defender) and device management tools. Premium's security apps protect against the latest cyberthreats and also grant you control over who can access company data and what they can do with it. Device management tools, on the other hand, make it easy to deploy Office apps to devices, automate software updates, configure security settings, and implement and manage security policies.
Premium is meant for SMBs that have grown to have their own IT teams and need to exercise more control over their burgeoning IT infrastructure.
Your choice of business software subscription plan boils down to two factors: what your business needs and what it can afford. To gain a better understanding of both, consult with XBASE.
Do you need help with your IT needs?
Don't just settle for average IT support. You want a responsive team that you can trust. Find out more by scheduling a call with us or getting a free quote down below.
Like This Article?
Sign up below and once a month we'll send you a roundup
of our most popular posts