Microsoft 365 Groups is a cross-application service that works with the M365 tools you already use to facilitate better team collaboration. It works best for teams that prefer to collaborate through email and need a shared calendar to sync their schedules. But while Groups already fosters an efficient way to work together, a feature called "connectors" further enhances user experience.
What are Microsoft 365 Group connectors?
Colleagues often collaborate on Outlook to write reports, create spreadsheets, or discuss project plans. But most of the time, the information they need to finish these tasks are found on different third-party apps, requiring them to switch back and forth between several screens or tabs.
Enter Microsoft 365 Group connectors, a feature that lets users access and share services and resources right in Outlook. By adding connectors to third-party applications such as Trello, Salesforce, Twitter, Stack Overflow, and those in Google Workspace into Outlook, team members can enjoy a more seamless and synchronous access to information. When an app is added to a Group, a connector card for that app is automatically generated and included within that Group's activity feed, allowing members to receive the latest news or updates from that app.
Delve deeper: Download our FREE eBook, A 360° Look at Microsoft 365
How do connectors improve team collaboration?
The prime advantage of using connectors is that it shortens the time it takes to find or interact with certain information. Instead of switching between tabs, you will only need to monitor a single page to stay updated. Some apps linked to Groups via connectors also provide actionable messages. For instance, you can get notified when your teammate creates a card on Trello, and you can add comments on the card straight from your inbox. This saves time that you can instead use to focus on more important tasks such as solving problems and delivering value to customers.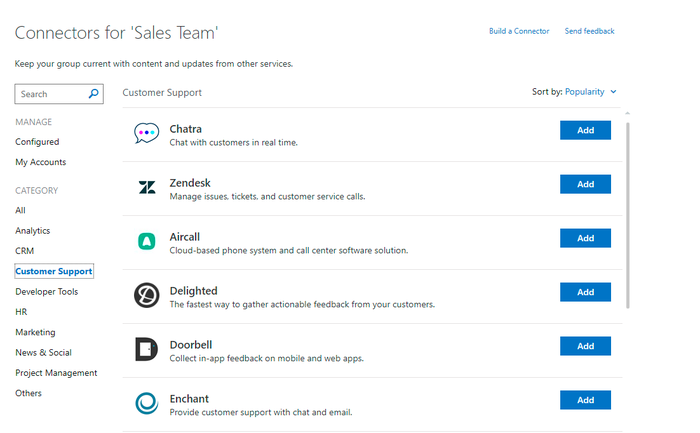 Another benefit of using connectors in Groups is that it helps ensure that you and your team are literally on the same page. For example, if you're following important Twitter hashtags and you have the app connected to Outlook, you can guarantee that everyone in the team will see the same feed. Having the same contextual experiences keeps the team in sync, eliminates misunderstanding or information gaps, and gets more things done. Being in sync also makes it easier to make decisions as a group.
On top of those benefits, connectors encourage team member participation, which is critical to a team's success. Anyone can add a connector as long as team permissions allow it. Even if the member who initially set up the connector has left the team, the connector will continue to function. Connectors are easy to set up and modify, too. You can even set how frequently your team receives content and updates, allowing you to better manage your Outlook inbox. Any member with permissions to add or remove connectors can modify them even if these are set up by other members — just make sure to discuss with your team prior to changing any settings.
Your teams can further benefit from Microsoft 365 Groups connectors when they develop their own connectors. By embedding the Connect to Microsoft 365 button on your public-facing site, users can connect to your service and get updates on your organization, as they would with other third-party apps. This gives your teams better insight into the type of people or companies that are interested in your business, which helps substantially in developing more effective business strategies.
Connectors in Microsoft Groups is just one of the lesser-known features of Microsoft 365 that you can take advantage of to improve your operations. To learn more about how to add connectors to your group, visit this page or reach out to the Microsoft 365 experts at XBASE Technologies. Drop us a line, or call us at 647-697-7710.